about me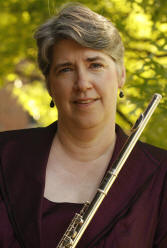 Performer, flute instructor, clinician and chamber music coach in Chicagoland since 1992.
Founder and director of Dr. Cate's Flute Camp in Naperville since 2000, for flute students ages 11-15.
Creator of Dr. Cate's Flute Tips on Wordpress and The Fluteline web site
Clinician for Altus and Azumi flutes
Students have gone on to study music at top colleges and universities including Northwestern University, Rice University, University of Illinois, Illinois State University, Indiana University- Bloomington, DePaul University, DePauw University, Roosevelt University
Students are regularly winners and finalists in top local competitions including the Chicago Flute Club High School Competition, Society of American Musicians Annual Competition, Evanston Symphony Concerto Competition, Chicago Youth Symphony Concerto Competition, McHenry County Youth Symphony Concerto Competition.
Students are members of top local youth orchestras including Chicago Youth Symphony Orchestra, Elgin Youth Symphony Orchestra, Youth Symphony of DuPage
DMA and MM from Manhattan School of Music in New York
Dissertation on Marcel Moyse's Tone Development Through Interpretation, a collection of opera arias and excerpts from wind literature for the study of musical expression, examines how Moyse taught these melodies
30 years teaching experience at colleges, community music schools and private studio
Solo debut recitals at Weill Recital Hall in Carnegie Hall, Dame Myra Hess recital broadcast on WFMT, and other recitals including appearances at Bruno Walter Auditorium at Lincoln Center, Donnell Public Library Center in NY, Fourth Presbyterian Church and Harold Washington Library in Chicago
Orchestral experience playing principal flute with the Berkshire Symphony in Massachusetts, substituting for the Albany Symphony, Schenectady Symphony, Catskill Symphony
What professionals say
I have had the pleasure of working with several of Cate Hummel's students who have come to study at Northwestern University. Their excellent pre-college training was most impressive. -- Walfrid Kujala, piccolo, Chicago Symphony Orchestra, Professor at Northwestern University
Cate has an excellent reputation in the Chicago area for performance in a wide variety of settings and styles. As our relationship in an educational setting developed, I found her to be one of the most interesting, and effective teachers I have had the good fortune to work with. Our flute students benefit greatly from her professional experiences and well organized teaching style. . .She is extremely dependable, communicates well and can relate to our students. Given all her gifts, her most impressive attribute is her ability to connect with students, motivating and encouraging them. . .Cate has demonstrated complete dedication to our program and a concern for students that never wavers. --John Gorman, Band Director, Dundee-Crown H.S.
It is with great pleasure that I recommend Dr. Cate Hummel. In my twenty-four years teaching in District #300, Dr. Cate has had a more profound impact on our program than any private instructor. Her expertise and motivating personality produces flute students that are readily capable to perform at a level far beyond the normal expectations of high school students. The quality of our flute students has risen exponentially under her direction. --Mark Bettcher, Jazz and Orchestra Director, Dundee-Crown H.S.
What parents say:
My daughter is going into grade and attended your last flute camp. SHE LOVED YOUR CAMP!! WE LOVED IT TOO!!! Thank you for putting such a great event together. The faculty concert was amazing. --Julie D.
My 8th grade daughter has been studying with Dr. Cate Hummel for just over 1 year. During that year my daughter has grown immensely. She thoroughly enjoys going to her lessons and is challenged to improve. Dr. Hummel is a remarkable teacher. She has the ability to pull the best out of her students and provides a great source of motivation. During studio recitals it is evident that all of her students are growing into fine players. When Dr. Hummel plays to close the recital you can see that she has the undivided attention and respect of all her students. Dr. Hummel is a highly qualified flute teacher and is an excellent role model for flute players of all ages and abilities. --Tom Eifert / Band Director, Aptakisic Junior High School, Buffalo Grove, IL
Dr. Cate is an excellent flute player, and very knowledgeable on flute techniques. There has been a noticeable improvement in the quality of our daughter's flute playing since she began taking lessons from her. Dr. Cate has even corrected some bad habits and improper techniques that she picked up from previous instructors and band teachers who weren't flute players. Our daughter really enjoys the summer Flute Camps, too. They expose the students to a wide range of music and instrument styles, and performance situations. --Steve K.
Thank you so very much for being such a great flute teacher! Our daughter has learned so much from you this year! -- Linda F. Just a short note to thank you for everything--especially your unselfish support and concern for our daughter. It has been a difficult and challenging year for her. Cate, you have a beautiful heart. Thank you for caring unselfishly. --Jeri H.
What students say:
I had been attending the U of I summer flute camp program since I was old enough to go to the middle school camp. Every year they had been happy with my playing. Last summer, I went another time, but this time was different. When I finished my auditions the one teacher asked me jokingly, 'Is this Tim?' To that I replied that I had transferred to a different teacher. 'Dr. Cate I'm assuming?'. She was right. I had been taking lessons from Dr. Cate for a year, and teachers from U of I noticed the change and automatically knew who to accredit it to. I was a new player to them, and ended up getting an original ranking of second in the camp as opposed the previous year where I sat in the back of the fourth flute section. Thanks to Dr. Cate, I can actually play. --Tim L.
During lessons Dr. Cate would point out places that need improvement, and then she would suggest ways to practice them by using specific exercises or etudes that applied to the problems. Furthermore, she has helped me with developing musicality. Sometimes she would encourage me to use my imagination to paint a mental picture that fits the music's mood; sometimes she would provide a mental picture of her own. Either way, the main purpose was to make me realize that playing music is not just playing the notes on the page; it also requires heart, soul, and brain. I was really challenged while studying with Dr. Cate. She always had her expectation one level higher than what I have already achieved, and helped me reach my goal step by step. This kind of learning process has become a habit of mine and I now find me constantly asking myself for more while practicing. -- Irene H., BM, Northwestern University
As far as flute goes, it's going really well....I made it into the second band out of seven, which surprised everyone, including me. Somehow I managed to place 10th out of the 49 flutes who auditioned for the top three bands....go figure! I only get a lesson with Prof. Keeble once a month, and even then it's a three-person group lesson...but that's okay because my TA is really cool. She's really happy with where I am in my playing, and that makes me happy (I can already play Taffanel & Gaubert #4 faster than the freshman ed major requirement for the semester, so she's putting me on the performance major goal track). So thanks for putting me ahead of the game as far as all that stuff goes! -- Gina Wych., now Band Director at Minooka H.S.
Thank you for being such a great flute teacher! You taught me many things that I won't forget. Also, you made me feel really happy when I am with you. Another thing is that you made me into such a good player You are so much fun to be around. --Becky D.